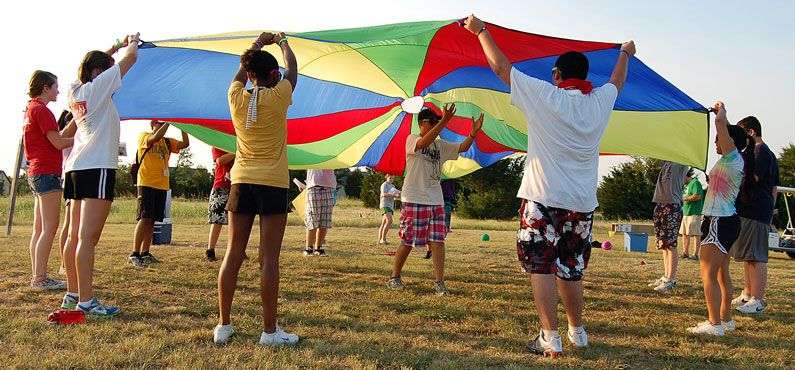 Day Activities
Throughout the week, campers will participate in a variety of activities during the day. These activities include:
Rock Climbing
Swimming
Archery
BB Guns
Art & Crafts
Ropes Course
Fishing
Canoeing
Music
Nature Hike
Evening Activities
Each night at camp, a special activity is planned. Many of these activities are kept "under wraps" as to surprise the campers. The camp committee works hard all year to plan these special activities. Many times, night activities are sponsored by our committee partners.
Some of the evening activities include:
Get to know the Camp Site Activity:
Usually on the first night of camp, the activity involves a scavenger hunt type activity. This activity helps campers learn about the camp site and helps them to get to know their fellow cabin mates.
Carnival:
This night is filled with bounce houses, a dunk tank, face painters, popcorn, cotton candy, and lots of fun!
Dance:
The dance is centered on the main theme of camp. A D.J. provides fun music to keep the kids moving all night long!
Closing Ceremonies:
Unfortunately, each week of camp has to come to an end. To close out the week of camp, a closing ceremony is held. At this ceremony, all of the campers and staff gather around a camp fire to sing together, talk about memories, and watch fireworks!
Typical Daily Schedule
| Time | Activity |
| --- | --- |
| 7:00 - 7:40 a.m. | Rise and shine, cabin cleanup |
| 7:45 - 8:20 a.m. | Flag Pole and Announcements |
| 8:25 - 9:00 a.m. | Morning meds, and breakfast |
| 9:05 - 9:25 a.m. | Cabin Cleanup |
| 9:40 - 10:40 a.m. | First Activity |
| 11:00 - 12:00 p.m. | Second Activity |
| 12:00 -1:00 p.m. | Lunch |
| 1:00 - 2:30 p.m. | Rest Period |
| 2:50 - 3:50 p.m. | Third Activity |
| 3:50 - 4:10 p.m. | Snack |
| 4:20 - 5:20 p.m. | Fourth Activity |
| 5:30 - 6:00 p.m. | Clean up and get meds |
| 6:00 p.m. | Dinner |
| 7:00 p.m. | Evening Activity |
| 9:15 p.m. | Shower and meds |
| 10:00 p.m. | Lights out |
| 12:00 a.m. | Lights out for counselors |